BEACH SHACKS OF GOA: Natural Restaurants bang on the beach.
A beach shack in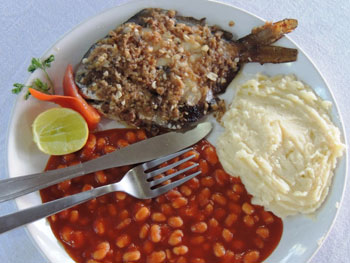 Goa is a food and beverage eatery that is temporarily fixed bang on the sands of the beach on any of the 72 plus beaches of South & North Goa. Concrete structures of any kind are not allowed or tolerated and with the onset of Monsoon Rains, the whole temporary structure has to be dismantled and carried away from the beach site. Beach Shacks (Restaurants) can be seen operating at all beaches of Goa starting from Early October and disappearing max by May.
Dining & drinking in a beach shack on Goa beach is a totally different experience. One can chill out in the cool shade of the palm leaf restaurant roof, sipping on chilled beers and enjoying Goan Seafood fresh from the Sea. While staying at Morjim Beach Cottages, you can eat Goan Seafood and Multicuisine food to your hearts delight at LA MARINE Morjim Beach Shack Restaurant.
TEMPORARY NATURAL RESTAURANTS: On the beach in Season Only.
Hundreds of Beach Shacks can be spotted easily along the palm fringed beaches of Goa. Goa beach shacks are always made out of natural materials such as wood, plywood, coir mattresses, dry palm leaves, cane chairs & tables, terracotta red tiles etc. These manmade structures provide a needed relief of shade from the hot sun on the beach.
RESTAURANTS ON THE BEACH: Only found in Goa.
Goa is the only state out of the 28 independent states of India, wherein the State Government of Goa has a comprehensive, "Beach Shack Policy" for promoting, allocating and controlling restaurant business activities on the beach. Goa is the only state in full of India, where the Government officially and legally allows the local citizens of every Coastal village of Goa to start a Food & Beverage Eatery or Restaurant on the beach.
FUN, FOOD & FENI ON THE BEACH: Once is never enough.
Goa is one piece of paradise where one visit will never suffice. There is so much to do in Goa, there is much more to see, and there is such a wide variety of Cuisines to eat from. Goa has become the family destination for Indians from all states and for Foreigners from all countries of the world. One can never feel full on lots of Goan frolic & frivolity, Goan Seafood and the local heady brew of Feni.
Our Menu